Hypnotherapy for Weight Loss & Hypnotist London
Professional Weight Loss Hypnosis Near Me
Hypnosis for weight loss is extremely effective. Are you tired of always trying to lose weight? Is your weight affecting your daily life? It's important to remember that you're not alone.
Lose weight with hypnosis without any diets, no pills, no supplements, and with a healthy eating and exercise approach. Hypnotherapy works by getting to the root of why you unconsciously eat, and help you create new healthy self-management techniques.
The weight loss hypnotherapy services I offer in Birmingham, London or through online appointments could give you a new approach to help you lose weight for good. Live the life you've always dreamed of living. 
If you've been struggling to lose weight, and nothing seems to work, weight loss hypnosis could be for you. Using a mix of hypnotherapy, NLP and coaching techniques, I can help you reach your weight loss goals and ideal weight.
Are you experiencing any of these symptoms?
Get The Support You Need With Hypnotherapy
Does hypnosis work to lose weight? For many people, losing weight with hypnotherapy is extremely successful and effective Hypnosis techniques allow you to finally reclaim your life and improve your relationship with food.
Discover more calm today through my expert hypnotherapy for weight loss. I'm an expert hypnotist to lose weight and have helped hundreds of clients for over 8 years.  
For more information of how I can help you overcome your weight loss with hypnotherapy in Birmingham or weight loss hypnotherapy in London, please get in contact with me I'd love to help you live the life you deserve, and I offer a 30 minute free consultation where we can talk through your weight loss hypnosis journey.
Gastric Band Hypnotherapy and Gastric Band Hypnosis
Weight loss hypnotherapy uses a blend of suggestion and cognitive behavioural therapy to achieve a positive relationship with food.
Does hypnosis help to lose weight? Weight loss hypnosis is a successful technique to help patients lose weight, however it's important to note that it's not for everyone. It's completely dependent on you, and you need to be truly committed to losing weight for gastric band hypnosis to work. 
Gastric band hypnotherapy suggests to your subconscious that you've had a gastric band fitted around your stomach, without any surgery and side effects. It's all in your head, and if you're serious about losing weight then hypnotherapy will work for you.
Discover how a hypnotist for weight loss can help you today, and change your life for the better. Improve your body confidence, beat food temptations, and life a healthier life.
Watch the video below which features a testimonial from a client who had success with weight loss hypnotherapy. 
Dieting, long-term does not work, and short-term is hard work.  Calorie control is not the answer! As well as stopping your compulsive eating, weight loss hypnosis can increase your motivation for exercise and activity so you lose weight healthily and naturally.
However, removing the barriers that currently exist in your mind WILL allow you to achieve weight loss.
Clinical weight loss hypnosis will provide the missing ingredient that diets and invasive surgery cannot provide. Hypnosis will help you uncover the cause of your weight problem and change your relationship with food and eating.
The diet industry is 70 years old, and we as a population are getting bigger! See this article on the BBC website regarding the rise in our Body Mass Index as a nation.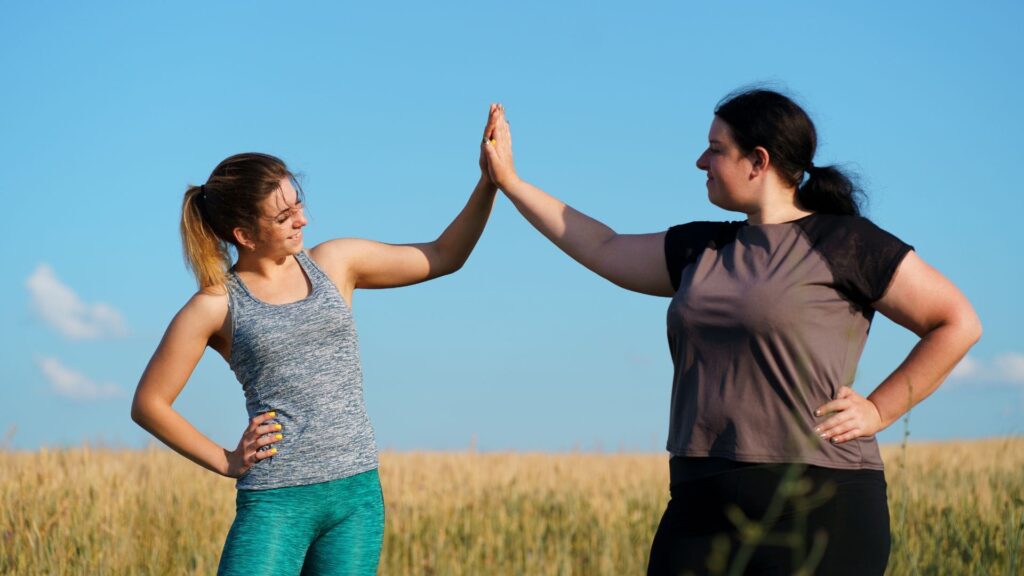 Hypnotherapist to Lose Weight London
Weight loss from the inside out:
Take control of your eating and weight
Ensure you start listening to your body again
Make better food choices
Love your body again
Learn weight loss strategies
Results of weight loss hypnosis:
Feel healthy and good in your skin
Look fantastic
Reach your ideal weight
No more emotional eating
Compliments from loved ones
No more sugar cravings
Live the healthy life you deserve
Don't suffer any more, you can and will lose weight with my help, so get in touch today and start seeing those pounds drop off and your self-esteem grow exponentially.
I've helped hundreds of people with weight loss hypnotherapy and I know that I can help you too. So please don't delay, get in touch with me today and lets get started on your road to the life you deserve.
Hypnosis for Weight Loss London, Birmingham & Worldwide
As a hypnotherapist and life coach, I specialise in an advanced form of hypnotherapy for weight loss London, Birmingham and worldwide that gets you out of your 'stuck' mentality and into a positive, successful frame of mind. 
Using my expertise, I always aim to get to the root of the issue, and use hypnosis to get results in the shortest time possible.
In addition to face-to-face sessions in Birmingham, Solihull and London, I offer online hypnosis sessions for weight loss. They are perfect for anyone based internationally, or for those who would prefer to enjoy their weight loss hypnotherapy journey in the comfort of their own home.
Hypnotherapy Weight Loss Birmingham. Weight Loss Hypnosis Near Me. Hypnotherapy for Weight Loss Near Me. Best Hypnotherapy for Weight Loss. Weight Loss Hypnotherapy Online. Hypnotherapy Weight Loss London. Hypnotherapy Weight Loss Harley Street. Weight Loss Hypnosis Near Me. Hypnosis Near Me. Hypnotist to Lose Weight. Weight Loss Hypnotherapy UK. Lose Weight Hypnotherapy. Online Hypnosis for Weight Loss. Hypnotherapy for weight loss near me. 
Looking for hypnotherapy for weight loss near me?
Other Hypnotherapy Treatments